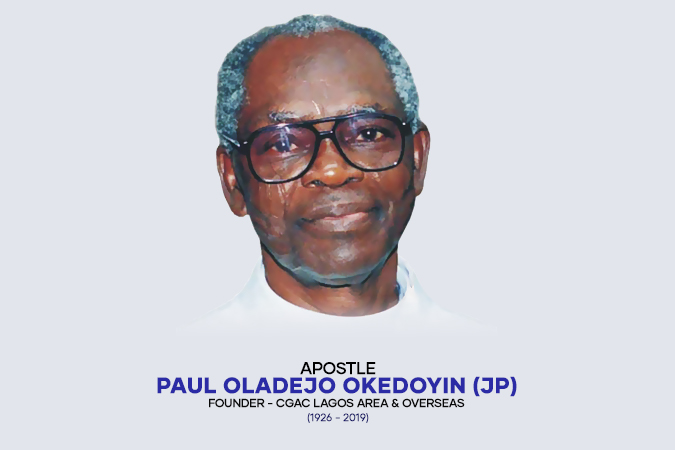 Christ Gospel Apostolic Church is distinctly an indigenous African Church. By its structure beliefs and practices, it is an independent Pentecostal Church. The history of the church is traceable to its founder the late Apostle Peter Akinloye Olatunji who Founded the church in 4thNovember, 1947. Apostle Peter Akinloye Olatunji had been a hardworking farmer early in life. A story has it that prophet Olatunji's life and ministry changed remarkably through a divine encounter while toiling on a farm land in Oyedeji Village in Ibadan, present Oyo State.
In those years gone by, when parents or people owe other people money, the service of their child or close relationship is taken in exchange. Such a person in most cases is asked to work in the creditor's farmland for certain amount of months or years depending on the amount owed. And it is often a practise that such people are assigned very difficult and humiliating tasks. Apostle Olatunji was said to have been a victim of this practise.
According to the eyewitness Prophet Olatunji was said to have confessed the following words during a tormenting experience one fateful day: '…. People say that there is a God that saves people from the hand of slave drivers'. In that instance, the Holy Spirit was said to have descended on him and reports spread around that He 'Peter had received the Holy Spirit''. The spot the incident took place became instantly monumental such that people looked at prophet Olatunji with great reverence. Hence forth, a great power was released unto him, power of healing, depth of revelation and miracles. It is an obvious fact that this encounter with the Holy Spirit marked the end of that humiliating slavery experience. Ever since then, his life, Christian experience and ministry had blossomed.

In1939. Prophet Peter Olatunji began his early missionary journeys which took him around areas like Igbo-Elerin, Araromi, Ago Owu, Baale Sango, Ife, Ekiti and Okiti Pupa, to mention a few. In these periods, God used him to perform dumbfounding miracles in the entire regions he toured. Following the controversies over the use of drugs, a doctrinal issue that split the Faith Tabernacle, Prophet Olatunji decided to stay put under the umbrella of Christ Apostolic Church, especially under the leadership of Apostle Joseph Ayodele Babalola. All his ministerial life, like his mentor Apostle Babalola, he never believed in the use of drugs to cure any form of Ailments. Between 1940 and 1942, God used this Prophet, Apostle Peter Akinloye Olatunji mightily in Oyo Area, especially in Oke Baago, during the reign of late Alaafin of Oyo Oba Oladigbolu. He was much loved by this monarch and his Chiefs, such that he was branded 'Baba Healer'. In 1943, his train moved to Ilora, in Oyo Axis where God blessed his ministry with remarkable signs and wonders. The same train moved him to Ijesha Area, Egba Area, Ekiti Area, Eastern Nigeria, Lagos, Port Harcourt, Ondo, Ikare, Ibadan, Ilorin and Modakeke, Ile-Ife.

In 1944, Prophet Olatunji was elevated to the position of Assistant General Evangelist for CAC, Nigeria and Western Africa a position second to Apostle Joseph Ayodele Babalola.
By October 1947, Prophet Olatunji moved to Oke-Foko region of Ibadan, Oyo State. A wave of revival had swept through that region to draw a large followership for this God's anointed Prophet. That led to the founding of CAC Oke-Foko. The impact of the revival was so great that lives were touched. People in that region began abandoning their fetish believes, while charms, rings, talisman or amulet were brought for destruction by fire. Sorcerers, witches and wizards began confessing and forsaking their evil deeds and accepted the supremacy of Christ Jesus.

Most of Prophet Olatunji's Ministerial journeys had resulted in the planting of churches in different locations under the auspices of Christ Apostolic Church. This had been between 1940 and 1947. These churches were located In the following areas: CAC Oyo, Ilora, Okeho, Ilaro, Iganna,Ilua, Ado Awaye, Sepeteri and Shaki respectively.
Before 1948, controversies had begun to arise concerning which superior between the offices of the Prophet and the Pastor in the CAC hierarchy. In a publication released in 1948, Prophet Olatunji had observed that he will be on the look-out for possible adjustment on the part of the Church Authority; and especially those arguing in favour of the superiority of Pastors. Apostle Olatunji had been on the side of Prophets, being one himself. In fact, a meeting was arranged in that respect. Pastor J B Orangun of CAC, Ita Baale, Olugbode Ibadan, was the Secretary of the reconciliatory meeting held on 28th August 1948. When the controversy persisted, Prophet Olatunji adopted the name Apostolic Gospel Church Nigeria, which was given to him by Gods inspiration Western Africa, which was given to him by God's inspiration in July 31st 1948. Many of the Churches he planted moved with him in respect of the change of name. However, till his death, he maintained a cordial relationship with CAC. As expected, Apostle Peter Olatunji had a bevy of faithful followers. These include Prophet/Pastor Daniel Adewole, Apostle Joseph Olajide Okerinu, Apostle Paul O Okedoyin, Prophet John Akindele, Pa Sanni, J B Osinnawo, Samuel Olaleye, J A Oladiti, James Adeyemo, Paul Ibe, just to mention but a few .

After a brief illness, Apostle Peter Olatunji went to be with the Lord in the wee hours of Sunday 23rd of April 1954. Some years after the demise of Apostle Olatunji, Precisely 1962, in a divine encounter 'Go and start a Revival for me in Lagos' were the exact words of God to Pastor (Now Apostle) Paul Oladejo Okedoyin more than fifty years ago. Those words however, have formed the bedrock of Christ Gospel Apostolic Church, one of the fast growing churches in the city of Lagos and Overseas. In 1963, when the name of the Church, Apostolic Gospel Church was to be formally registered with the relevant Government Agency, Registration was declined on the ground that there was an already registered Church using the name Apostolic Gospel Church. Through the divine leading of the Holy Spirit the name Christ Gospel Apostolic Church was presented by the then Ministry of Lagos Affairs and subsequently registered with the following persons as the registered trustees of the Church, (i) Pastor (now Apostle) Paul Oladejo Okedoyin (Chairman) (ii) Pastor James Adeyemo (iii) Elder David Odeyemi.
Home
Our Structure